Paddy Becomes a Chef, or the Joy of Eating
Age:
0-6
Edition type:
boardbook
Release year:
2021
number of pages:
28
Dimensions:
135 x 135 mm
ISBN:
978-83-10-13690-9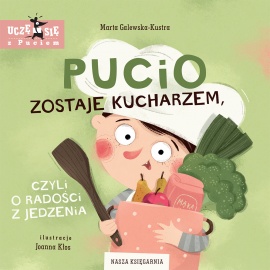 Paddy wants to try a new dish at the Happy Carrot restaurant. The pasta he ordered looks different to the one he has at home, but it's still delicious! And the chef gives the children a recipe for delicious fritters, so there's some family kitchen time coming up! Gosh, this is so much fun! Everyone has their task: Dad cuts the fruit, Paddy mixes everything, and Maisie pours ingredients into a bowl. And supper is nearly ready!

The book contains the recipe for Paddy's fruit fritters and instructions on how to make them yourself. Cooking together is especially recommended for children who find eating tricky.