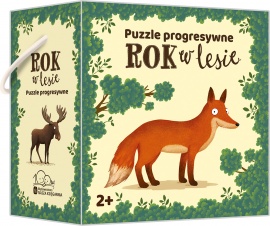 SELLING POINTS:
wild animal recognition

big cardboard puzzles
exercising observation and precision
DESCRIPTION:
Rook, fox and elk – 3 noble inhabitants of the forest – this time in the form of progressive puzzles, that can be enjoyed by kids from the age of 2.
A Year in the Forest. Progressive Puzzles is a great set encouraging young kids to learn more about the wild animals. At the same time the puzzles allow kids to exercise their imagination, precision, and patience. In the end, nature always does best to the people of all ages!

Box size: 70 x 135 x 135 mm
CONTENTS: