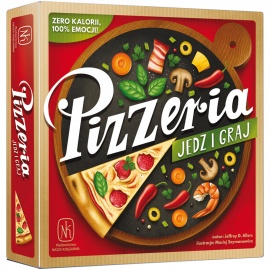 SELLING POINTS:
Very easy to learn
Quick and dynamic gameplay
Visually appealing
Attractive topic for different ages and groups
Solo mode
GAME DESCRIPTION:
In Pizzeria you go with your friends to a pizzeria for lunch. Each round you order a new pizza and a different player slices it into portions. Pizzas consist of different kinds of slices and you have to split them in the best possible way. Some people like pepperoni, others want vegetarian or supreme… How should you cut it, so the portion you want the most gets to you?
In order to get the points, you have to collect the most slices of a given type. You may also choose to eat slices instead of collecting them. Then you get points for basil leaves that were on the slices you ate. The player with the most points is the winner.
0 calories, 100% emotions!
Promos available as an option!
Joker & 2 additional special offers
Awards:
2019 Top 10 Games About Pizza - Tom Vasel (USA)
2019 Top 10 Games For Summer Holidays - Tom Vasel (USA)
2017 Best of 2002 - The Dice Tower (USA)
2017 Game Of The Month - The Dice Tower (USA)
2009 Boardgame Prize Voter's Selection (Japan) (nominee)
2009 Best Children Board Game - Golden Geek Awards (USA) (nominee)
CONTENTS:
65 Normal Pizza Slices
4 Mixed Pizza Slices
12 Special Offer Tiles
1 Pizza Knife Token
Rulebook