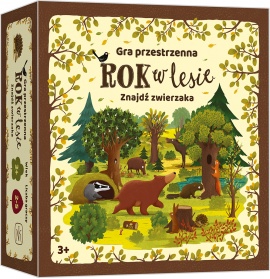 SELLING POINTS:
wild animal recognition

big cardboard animals
exercising memory and perceptiveness
DESCRIPTION:
Wild animals would like to invite you again to their home. This time it is special – three dimensional! A place where they can play hide & seek with you. Hey! Was there an elk here a moment ago? Where did it go?
A Year in the Forest Find the animal is a great game that allows you to exercise your memory and reflexes. Your goal is to name the animal that hid in the forest or showed there just a moment ago. The 3D form of the game keeps all the players engaged.
Box size: 70 x 230 x 230 mm
CONTENTS:
12 cut-out animals

6 cut-out trees
3 cut-out bushes
12 animal tiles
25 scoring tokens
rulebook