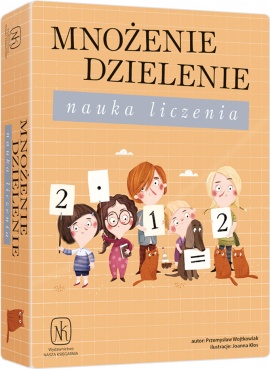 SELLING POINTS:
learning to multiply and divide

co-op and head-to-head variants
4 game modes
DESCRIPTION:
Learning to multiply and divide is another, after adding and subtracting, important step in learning mathematics. It can be done in a fun, and easy way with a game! While playing, kids won't even notice how much they learned!
Multiplication Division. Learning to Count
is a math card game for 2-4 players who already tipped their toes in the world of math, and they want to take their skills to another level. With this set they can choose from 4 modes of play and train their skills in multiplying and dividing. Included rulebook describes both co-operative and competitive games, so even the most picky players will find something for themselves!
Plus Minus. Learning to Count is a math card game for 2-4 players aged 7 years and more. Players can use it to practice basic math skills, such as adding, subtracting, distinguishing between odd and even or bigger and smaller numbers. The included rulebook contains 3 modes, which will let the players enjoy the game on different difficulty levels.
Box size: 135 x 189 x 41 mm
CONTENTS:
100 double-sided cards

rulebook