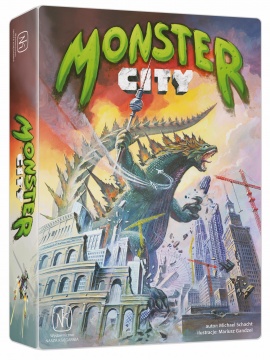 SELLING POINTS:
Outstanding graphics

Monster theme
Portable size
Exciting gameplay
GAME DESCRIPTION:
In
Monster City
players try to build the most magnificent cities. However, the task is not that easy, because their budget is really limited. That is why they attract different monsters to rampage over their cities, so they could get compensation that could be spent to build more buildings! Four times during the game players score points for their cities – each time it is different and you choose the
way you want to get points. It can vary from the choice made by your opponents!
Monster City is a fun and exciting card game for every monster lover – whether you prefer the oversized baked mayhem, or a mechanized knight from Japan, you will find one that suits your taste!
Are you ready to welcome the monstrous rampage to your Monster City?
CONTENTS:
30 Monster Cards

40 Building Cards
10 Starting Cards
14 Event Cards
5 "STOP" Cards
4 Scoring Cards
10 Banknotes
Notepad & Pencil
Rulebook