A Year in the Forest. Badger
Age:
0-3
Edition type:
boardbook
Release year:
2021
number of pages:
28
Dimensions:
135 x 135 mm
ISBN:
978-83-10-13638-1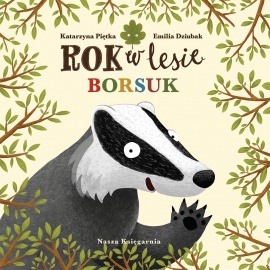 A real treat for the youngest fans of the best-selling Year in the Forest! Introducing a series of cardboard books about its best loved animal characters.
Welcome to the forest! Today you'll meet Badger. You'll learn when he sleeps and what he eats, what his habits are and what he likes doing. You'll wake him up, clean his hair and help him tidy up and find food.
The books in the Year in the Forest series nurture the youngest readers' awareness of forest animals, inspire children's imaginations, and develop their skills of perception and logical thinking.