Ewa and Paweł Pawlak's Small Atlas of Cats and Kittens
Age:
0-6
Edition type:
boardbook
Release year:
2021
number of pages:
40
Dimensions:
205 x 250 mm
ISBN:
978-83-10-13683-1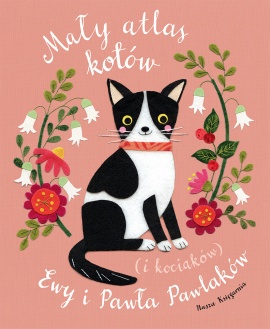 In their fourth atlas, our pair of brilliant illustrators pay tribute to a great love of their lives: cats. Across the pages of the atlas, we will encounter fluffy Norwegian cats, blue-eyed Siamese cats, Japanese cats with pompom-shaped tails, as well as the by far most superior cat of them all: the common moggy. Personal stories are mixed with child-friendly information about the nature of cats, their language and the domestic cat's wild cousins. The text is accompanied by amazing illustrations: loving cat portraits conjured up from pieces of fabric, elegant watercolours and 3D papier mâché cats. The book also showcases photographs and children's drawings – provided by the authors' young friend, Ola.

Even though cats have lived alongside humans for thousands of years, they remain independent, proud and… still keep a whole load of secrets! Let us follow in the footsteps of cats… provided they let us!