Let Me Tell You Mom What Mice Do
Age:
0-6
Edition type:
boardbook
Release year:
2021
number of pages:
28
Dimensions:
200 x 280 mm
ISBN:
978-83-10-13645-9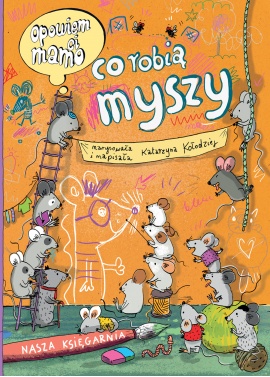 Meet the Mousetachio Family – Fred, Mela and their numerous children. Visit an arts workshop, a pantry, a school for mice and an amousement park! Take part in a race, spend some nice time at a concert and have a rest by the fire. You might also be able to set off on a space expedition and clean up a lake. At the same time, you'll be able to test your observation skills by looking for hidden details and solving mysteries.
The Let Me Tell You, Mom series features books aimed at children between 2 and 6 (and older!). Rigid pages, handy size and – most of all – beautiful, funny and detailed illustrations are its trademarks. The books help your child practice their alertness, their story-telling abilities, and encourage their interest in the world. But most of all, they're great fun and a way to spend time in an enjoyable, creative way.