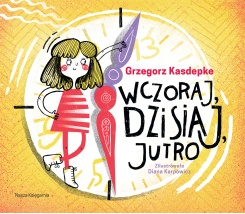 Yesterday, Today, Tomorrow
release year:
2016
number of pages:
48
age:
6-10
ISBN:
978-83-10-13035-8
Why is Tomorrow always late? And why
is it always grey and hunched over? Must
Yesterday disappear into thin air? Must
Today always make such a big mess?
And who is going to clean it up? Yesterday,
Today, or maybe Tomorrow? It's difficult
to decide, especially when you don't know
what they all look like and where
to find them…
Yesterday, Today, Tomorrow is an extremely
funny and clever story about a little
girl who doesn't like cleaning but has
a great imagination. Our most popular
contemporary children's author tells us
about the mystery of time and that sending
a smile to your Today is worth it.