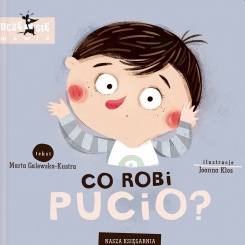 What's Paddy Doing?
release year:
2019
number of pages:
28
age:
0-2
ISBN:
978-83-10-13469-1
Across the pages of this little book, you will find your favourite character
in everyday situations. Each one of them is a chance to familiarise
yourselves with the most basic nouns and verbs. Use the book according
to your child's needs and her development stage. You can have the child
in your lap, or you can put her on her belly and place the book in front
of her, or even look at the book when you're both lying on the floor. It's
important that you point to objects in the illustrations, repeat the words
used (do so in everyday life as well), speak clearly and add emotion to
what you say.
You will find more words from a child's basic dictionary in our book called
Paddy's First Words.