rights sold to:
Russia
China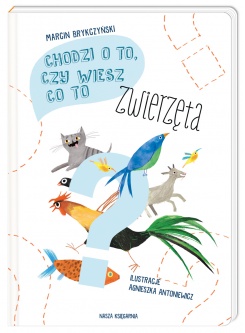 The Thing Is... Do You Know What It Is? ANIMALS
release year:
2014
number of pages:
28
age:
2-6
ISBN:
978-83-10-12620-7
Walking quietly, catching mice,

Upon the sofa purring nice.




This and other simple riddles about the animals we live around can be found in Marcin Brykczyński's exceptional collection. The riddles are accompanied by humourous short poems about our animal friends from the home and the farm. The book also features incredible illustrations by Agnieszka Antoniewicz. There is added fun to be had with cartoon challenges that test observation skills.



This book teaches and entertains at the same time and is aimed at children aged 2-4, though older readers will surely enjoy it too. Its sturdy pages will survive the attentions of little hands.

Essential for any children's library.






In 2014 "The thing is..." received a distinction from the Polish Section of IBBY for an illustrated book!
Książka nominowana do następujących nagród: