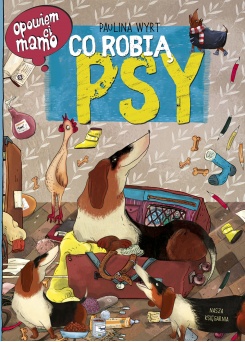 Mum, Let Me Tell You What Dogs Do
release year:
2018
number of pages:
28
age:
2-6
ISBN:
978-83-10-13176-8
Meet Feler, an adorable dog who's a bit rough around the edges. He's been taken in by a friendly lady called Lila, who still needs to work on him a bit (for example, teach him that the cat is a friend too), but everything is going pretty smoothly. The joy of having such a faithful companion is enough to make up for any difficulties.
Mum, Let Me Tell You What Dogs Do is a funny picture book, not just about Feler the dog. Along with the characters from the book, you'll be able to visit a vet's, a pet beauty salon, a playground for animals and many other interesting places. You'll find out what responsible work some dogs do, you'll learn about different dog breeds, and various dog habits and abilities. You'll also learn about looking after these lovely animals and will be able to put your powers of observation to the test when you look for hidden details and solve mysteries.