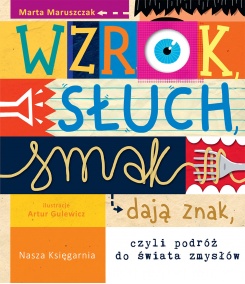 Hearing, taste and sight – alright!
release year:
2020
number of pages:
48
age:
6-10
ISBN:
978-83-10-13544-5
• Why do insects send scent texts?
• What is a taste bud?
• Where can you find your very own GPS?
• What does an antiaircraft parrot do?
• Why isn't an elbow sensitive?
• Which animal uses its tail as air-conditioning?
• Why do birds need iron pellets in their ears?
• When does a dog behave like a compass?
• Why do schooling fish not crash with each other?
• How do people and animals receive signals from their environment and from within the body?
You will find the answers to all these questions in this amusingly illustrated books. And in order to better explain how our senses work, we've added
a few simple experiments.