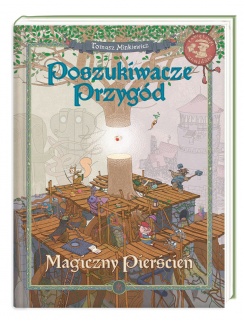 Adventure Seekers. The Magic Ring
release year:
2017
number of pages:
32
age:
4-10
ISBN:
978-83-10-13124-9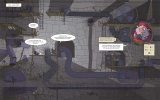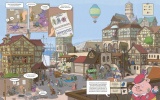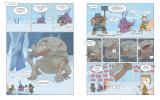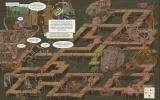 Prick up your ears, prop up your tails.
Move close to the fire as the storm outside rages.
Ruffle your whiskers and listen up –
My magical ballad unfolds on these pages.
Here are our three heroes, revelers like yourselves.
In their hearts a love of adventure burns.
They'd blindly walk right into great trouble
Not expecting a penny in return.
One of them walks around literally blindly
He's a bat, so his eyesight is shady indeed.
The second's a bison from a wild forest
And the third is a squirrel in terms of her breed.
Eli the archeress has a bushy red tail
Bururum bravely holds his hammer aloft
And Wizz – his charms, suffice it to say,
Are fully-fed, cuddly and soft.

Humming this ballad, our bard-narrator begins his story about the crazy adventure of three friends: Eli, the crafty squirrel, Bururum, the brave bison,
and Wizz, the enigmatic bat. On their way to the Monstrous Mountain our trio will have to face up to many dangers and solve numerous mysteries.
And you, dear Reader, will help them along the way. Perceptiveness, cunning and a sense of humour are enough to get out of any pickle.
Will you find the way across the swamps of terribly friendly Spiters? Will you take up the challenge of finding the hidden parts of a door in the narrow tunnels full of Bittens? Will you solve the mystery of Disappearer-Appearer the devious wizard?
Adventure, fun, charades and romance. All right, skip the romance. Adventure, fun, charades and a magic helmet (strangely similar to a cooking pot) – you will find all this in Adventure Seekers. The Magic Ring, which combines elements of a comic book, a novel and a labyrinth.